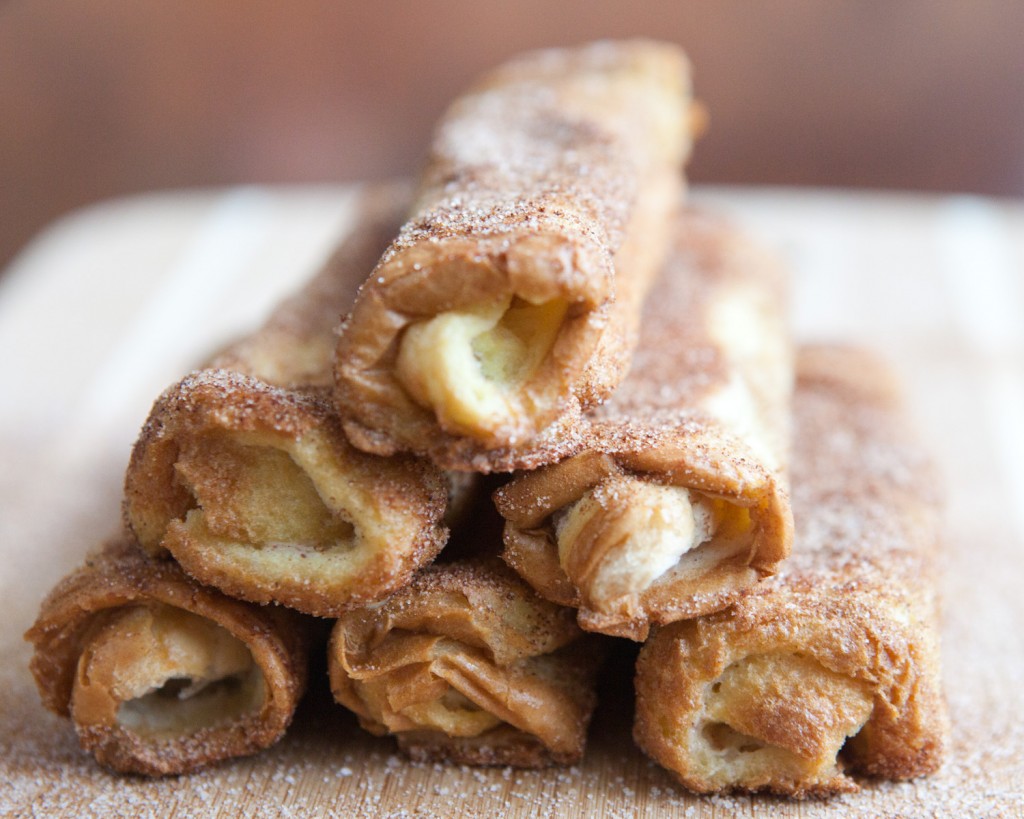 Ingredients
12 slices bread
2 eggs
¼ cup milk
1 teaspoon cinnamon
½ t vanilla extract
½ block cream cheese
¼ cup powdered sugar
⅛ cup strawberry (or your favorite) jam
butter
⅛ cup cinnamon + ¼ cup sugar
More Cinnamon for sprinkling & Maple Syrup for dunking
Instructions
Flatten each slice of bread out with a rolling pin.
Mix up your filling (cream cheese, powdered sugar, & jam for suggestions). Place about 1-2 teaspoons of your chosen filling inside your bread (smear it on like you were making PB&J or make it a bit neater by just doing a strip about 1 inch from the edge of one of your sides). Roll the bread up tightly and repeat with the remaining pieces of bread.
In a shallow bowl whisk the eggs and milk and cinnamon until well combined
TO FRY:.Heat a skillet set over medium heat and melt a bit of butter. Dip each bread roll in the egg mixture coating well and then place them in the pan seam side down. Cook in batches until golden brown, turning them to cook and brown on all sides, about 2 minutes per side. Add butter to the pan as needed.
OR TO BAKE: Preheat Oven to 350. After dipping your French Toast Rolls, place seam side down on a parchment/slipmat lined baking sheet. Bake for about 10 minutes and then flip and back another 10 minutes or so until crisp on the outside.
In a separate shallow bowl mix the sugar with the cinnamon. As SOON AS cooked rolls come out of your preferred cooking method, roll them around in the cinnamon-sugar until completely covered in sugar.
more: http://www.teacher-chef.com/2014/03/21/french-toast-roll-ups/