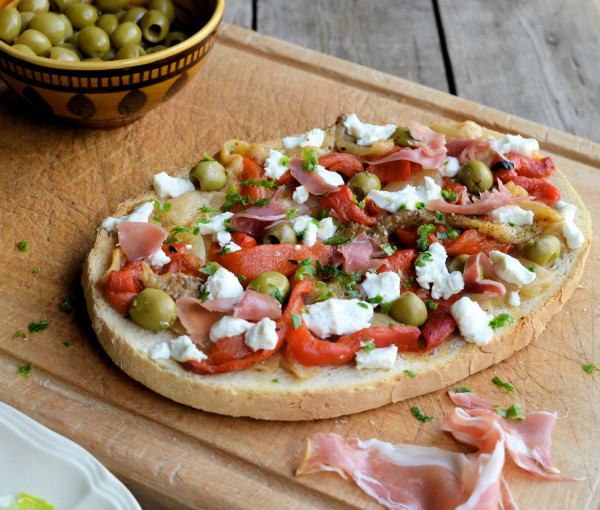 Ingredients
1 large slice of bruschetta bread (or a slice of bread from a ciabatta, cob, cottage loaf or another round bread)
extra virgin olive oil
1/2 jar of Escalivada (or 1/2 jar of roasted antipasti vegetables)
green olives, pitted
80g soft goat's cheese
1 slice Serrano ham
flat leaf parsley
sea salt
Directions
Toast the bruschetta bread on one side and then drizzle some olive oil over the untoasted side.
Spoon over the escalivada, draining it so there is not too much juice which will make the toasts go soggy. You may need to roughly chop the peppers and other vegetables first.
Add the olives, either whole or halved and then crumble the goat's cheese over the top. Place the toast under the grill again, until the topping is hot and bubbling and the cheese is soft and has melted.
Tear the Serrano ham into pieces and scatter them over the top.
Cut into quarters or eighths, and serve hot with roughly chopped flat leaf parsley as a garnish, and some sea salt to season.
Serves two people as a light lunch with a side salad, or four people as a tapas starter with drinks and olives on the side.