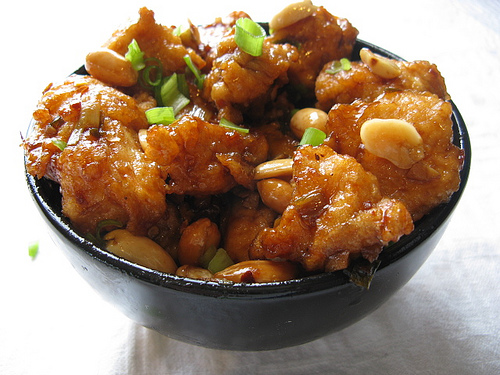 Ingredients:
1lb boneless-skinless chicken breasts (cut into 1" pieces)
1 tablespoon cornstarch
2 teaspoons sesame oil
3 tablespoons green onions (chopped)
3 garlic cloves (minced)
½ teaspoon crushed red pepper flakes
½ teaspoon powdered ginger
2 tablespoons rice wine vinegar
2 tablespoons soy sauce
2 teaspoons sugar
1/3 cup dry roasted peanuts
Method:
combine chicken and cornstarch in a small bowl and toss to coat. Heat sesame oil in wok over medium heat, add chicken and stir fry 5-7 minutes or until no longer pink inside. Remove chicken from wok.
Add green onions, garlic, red pepper flakes and powdered ginger to the wok and stir fry for 15 seconds.