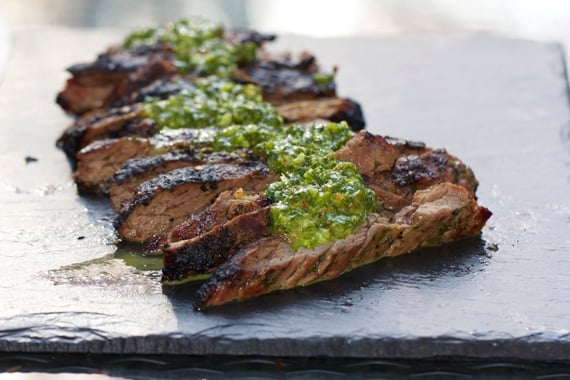 Ingredients
Sauce
1 bunch flat leaf parsley, roughly chopped (1 cup, packed)
5 large garlic cloves roughly chopped (about 3 tablespoons)
1 tablespoon dried oregano
1 teaspoon crushed red pepper flakes
½ cup distilled white vinegar
½ cup extra virgin olive oil
1 teaspoon salt
1 teaspoon pepper
Steak 2 lbs skirt steak (or substitute flank steak)
Salt and pepper, to taste
Instructions
Put all sauce ingredients into the bowl of a food processor or blender and blend just until everything is combined and garlic is very finely minced. Set aside.
Put steak in a non-reactive container. Spoon 4 tablespoons of chimichurri sauce on top of steak and spread it around. Flip steak over a few times to coat. Marinate at room temperature for 1 hour or in the fridge for at least 2 hours or overnight. Allow steak to come to room temp before proceeding (about ½ hour out of the fridge) Preheat grill to high. Sprinkle steak with salt and pepper and grill for 3-4 minutes per side (5-6 minutes per side for flank steak), until it is lightly charred on the outside and medium rare inside. Let steak rest for 5 minutes before slicing. Slice against the grain. Spoon chimichurri on top or serve on the side. Enjoy!
Note: Sauce is best served at room temperature. It will keep for 2 weeks in fridge.