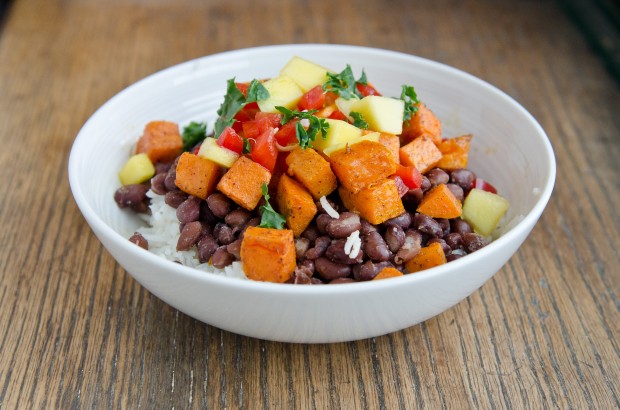 Coconut Rice Ingredients
1 and 1/2 cups of Basmati or Jasmine rice
1-14 ounce can of coconut milk
1 cup of water
1/2 teaspoon of salt
Cumin-Lime Black Beans
2-15 ounce cans of organic black beans
2 cloves of garlic, finely minced
1/2 tablespoon of canola oil
1 and 1/2 teaspoons of ground cumin
2 tablespoons of fresh lime juice
salt and pepper to taste
Jerk Seasoned Roasted Sweet Potato
2 medium sweet potatoes, peeled and cut into 1 inch cubes
1 tablespoon of canola oil
1 and 1/2 teaspoons of jerk seasoning (store bought or use the recipe below)
salt and pepper
Garnish
fresh chopped cilantro
fresh mango salsa
Method
Preheat oven to 375′F. Line a baking sheet with parchment paper. Set aside.
In a small bowl, combine the sweet potato cubes, canola oil and jerk seasoning. Toss with hands to distribute spice over all sweet potato cubes. Spread the cubes onto the parchment lined baking sheet. Roast sweet potatoes for 25 to 30 minutes, or until tender.
Meanwhile, combine the coconut milk, rice, water and salt in a medium sauce pan. Bring mixture to a gentle boil then reduce heat to a simmer. Cover and cook on low for 15 minutes. Remove from heat and allow rice to sit, covered, for another 15 minutes. Set aside.
While the rice is cooking, heat canola oil in a small saucepan over medium heat. Add minced garlic and sauté for a minute or so. Sprinkle cumin powder over the garlic. Add black beans, 1/2 cup of water and 2 tablespoons of lime juice. Season with salt and pepper. Allow beans to simmer while the rice is cooking.
To serve, layer a scoop of rice with a scoop of the cumin-lime black beans. Top with a helping of jerk roasted sweet potatoes and garnish with some fresh chopped cilantro and mango salsa.