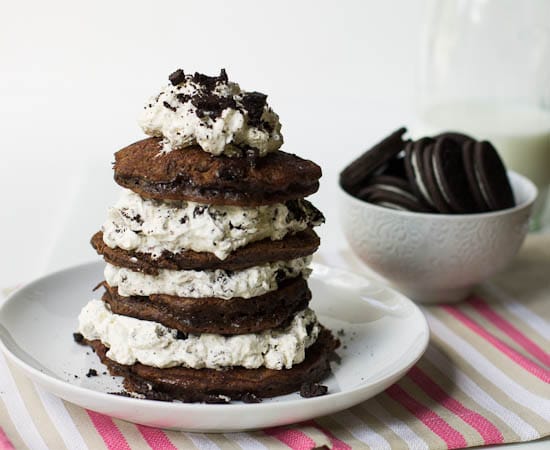 Ingredients
½ cup non-dairy milk (I used SILK coconut)
½ cup flour (I used ¼ whole wheat, ¼ all purpose)*
1.5 teaspoons baking powder
scant ¼ cup dark chocolate cocoa powder (or regular)*
pinch of salt
1 Tablespoon sugar (or other sweetener)
1 Tablespoon oil (I used canola)
½ teaspoon vanilla
FROSTING FILLING
1.5 cups unsweetened coconut flake
¼ teaspoon vanilla extract
2-3 Tablespoons coconut milk (or other non-dairy milk)*
2-3 Tablespoons powdered sugar (optional)
Instructions
FROSTING – Using a food processer, mix the coconut flakes until they form coconut butter. Scrape down the sides as necessary. It may not come to a full paste but it should be near creamy. (Start your pancake batter while it's mixing)
Once creamy, add vanilla and powdered sugar and mix again.
While the mixture is processing, add in splashes of coconut milk until it resembles a creamy frosting that retains a little thickness.
BATTER – Heat a skillet over medium-low heat.
Mix milk, oil and vanilla in a small bowl and set aside.
Whisk the flour, baking powder, cocoa powder, sugar and salt in a separate bowl until combined.
Add the liquid to the dry and mix with a wooden spoon until just combined. Add a touch more milk if it's too thick.
Drop small scoops of batter onto the lightly greased skillet. When bubbles start to peak through the surface and you see a bit of light browning/crisping up on the underside, flip the pancakes over carefully, about 2-3 minutes.
Repeat on the other side, remove from the pan.
Top pancakes with as much frosting as desired. I found a small spoonful between each later was plenty.