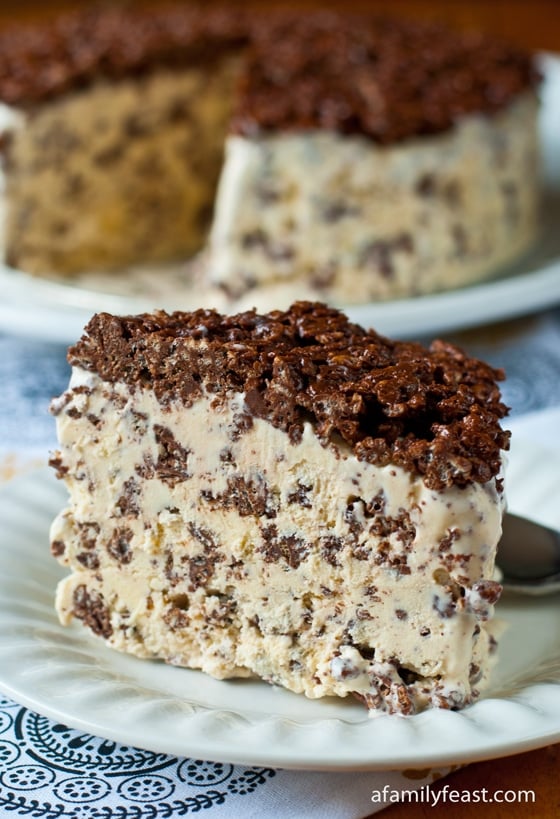 Ingredients
2 cups Nutella
6 cups Rice Krispies cereal
1 gallon vanilla ice cream
Instructions
Place a 9 or 10 inch springform pan, as well as a very large mixing bowl in the freezer to chill.
In a large saucepan over low heat, combine the Nutella and Rice Krispies cereal. Mix well until the Rice Krispies are completely coated with the Nutella. Remove from heat.
Line a sheet pan or cookie sheet with parchment or wax paper. Pour the Nutella-Rice Krispies mixture onto the lined sheet pan and spread evenly. Then place in the freezer to chill.
While the coated cereal mixture is cooling, remove the ice cream from the freezer and place in the refrigerator to soften.
After about 30-45 minutes (you want the Nutella coated cereal to be cooled and firm but not frozen at this point) – using a fork and knife – cut the coated cereal into bite sized pieces. Place back into the freezer, if necessary, until the ice cream is softened.
Once your ice cream is softened (it should be just softened enough to stir in the coated cereal but not so melted that it is runny), remove the Nutella-cereal pieces, the large mixing bowl and the springform pan from the freezer.