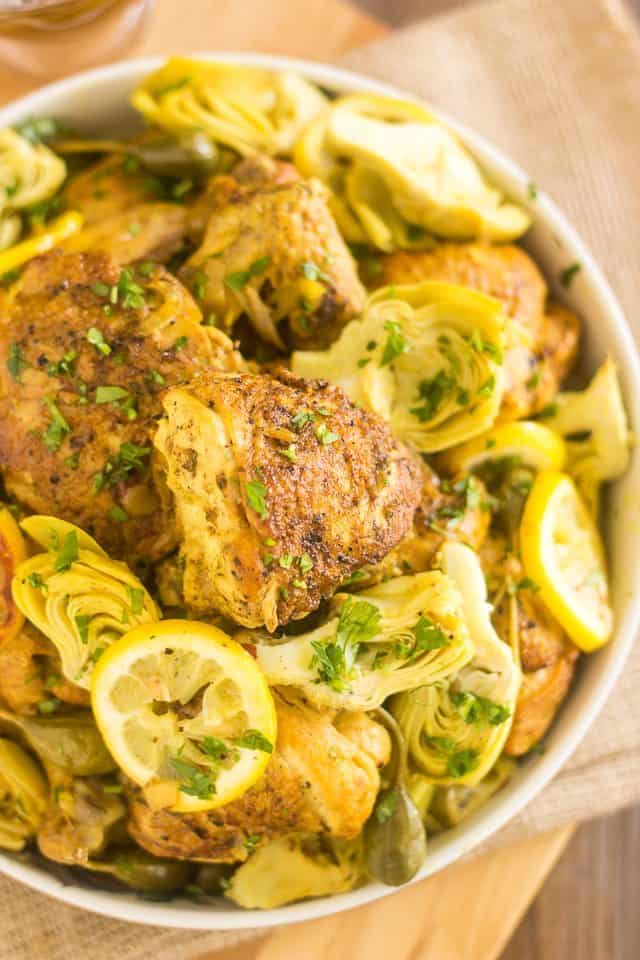 Ingredients
1 1/2 pounds boneless chicken breasts, pounded until 1/2 inch thick
1/2 cup flour seasoned with 1/2 teaspoon salt and 1/4 teaspoon pepper
3 tablespoons canola oil
1 cup white wine
2 packages frozen artichoke hearts, quartered
1 lemon, sliced thin
1 tablespoon fresh thyme leaves
Shaved parmesan cheese for garnish
Directions
Coat chicken in seasoned flour.
Heat oil in a large heavy skillet over medium high heat and brown chicken on both sides, about 2-3 minutes per side.
Add wine and artichokes to skillet and bring to a boil. Cover, turn the heat down to low, and cook for 8 minutes. Uncover skillet and add lemon slices and cook for 2 more minutes.
Remove chicken from sauce and bring sauce to a low boil. Cook for another 5 minutes or so until sauce is reduced a little.
Return chicken to skillet, stir in thyme until thyme is mixed in and chicken is coated with sauce. Scatter shaved parmesan on top and serve right out of the skillet - it's homier that way!
more at:
http://www.myfridgefood.com/viewrecipe.aspx?recipe=20508#sthash.xUqN8V5R.dpuf