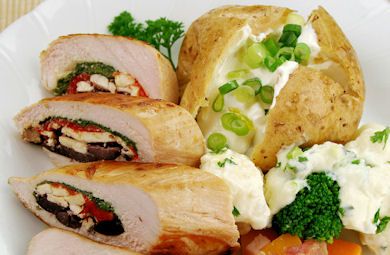 Introduction
Make this chicken the next you have company for dinner, and they'll swear you hired caterers. It tastes like it came from a restaurant, but for much less money and effort.

Ingredients
1 T canola or olive oil
1 pound (16 ounces) chicken breasts (2 breasts cut in half)
1/2 c oven dried tomatoes, diced


6 T tapenade


4 oz feta cheese
Tips
By using homemade tapenade and roasted tomatoes instead of buying them at the supermarket, you're cutting the cost of this meal in half.

I made this dish with feta, but if you prefer a less salty cheese, use soft goat cheese.
Directions
Preheat oven to 350 degrees. Place chicken breast halves between two sheets of wax or parchment paper; pound with a meat mallet or rolling pin to a quarter inch of thickness. Place 1 ounce of cheese, 2 T diced tomatoes, and about 1 1/2 T tapenade on each piece of chicken. Roll up like a jelly roll. Heat the oil over medium-high in a large oven-safe saute pan; once hot, add the meat to sear on all sides. Once the meat is browned on all sides, transfer the entire pan to the preheated oven. Roast for 15 minutes, until meat is cooked and no longer pink inside. Remember to have a hot pad in your hand when you remove the pan from the oven--thehandles get hot! Allow meat to rest 3-4 minutes before cutting.
Makes 4 servings with 3 ounces of cooked meat.
recipe by CHEF MEG at http://recipes.sparkpeople.com