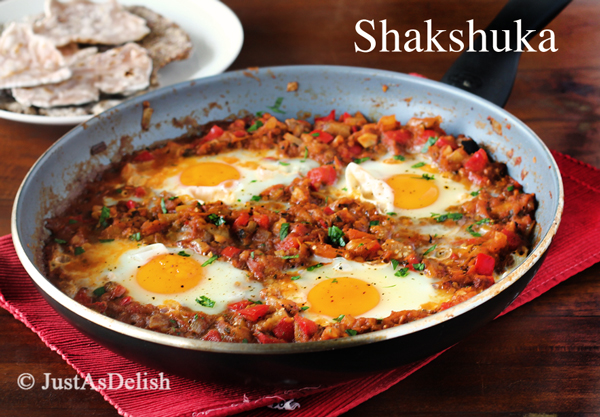 Ingredients
Olive Oil
1 big Onion – sliced
4 Garlic cloves – chopped
600g (about 4 large) ripe Tomatoes – roughly diced
1 small green Capsicum – roughly diced
100 ml Tomato paste (I replaced with 1 more tomato)
4 large Eggs
1 teaspoon Paprika Powder
1 teaspoon Cumin Powder
a pinch of Oregano / Thyme
Sea salt & freshly cracked Black Pepper to taste
Parsley for garnish
Instructions
In a medium frying pan, add the olive oil and fry the onion translucent throw in the Garlic too.
Add in the tomatoes and cook for 5 minutes.
Add in the rest of ingredients except parsley, and cook for 15 minutes on a low flame. If it is dry and stick to pan, pour in some water and mix well. Shakshuka is supposed to be dry, not watery liquid. Season with salt & pepper to taste.
minutes before serving, make 4 gaps in vegetable mixture and crack in the egg, one at a time. Cover the pan and cook on low flame for 5 minutes. The eggyolks should not be hard but soft cooked, so be careful not to overcook the eggs.
Garnish with parley & serve immediately with bread or just as delicious on this own.