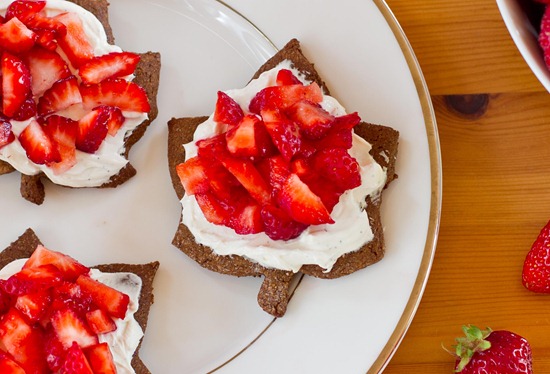 Ingredients:
Homemade or store-bought graham crackers
1 tub non-dairy cream cheese (or regular if you prefer)
1/2 cup- 3/4 cup icing sugar (confectioner's)
2 vanilla beans or 1 tsp fresh lemon juice
1 pint strawberries, hulled and diced
Sugar, for sprinkling
Directions:
Make your homemade graham crackers in advance or simply purchase graham crackers from the store.
In a mixing bowl, beat the cream cheese until fluffy. Slowly add the icing sugar to taste. Add in a couple scraped vanilla beans and maple extract or a teaspoon of fresh lemon juice if you prefer. Store in fridge. You can also make this in advance!
Hull a pint of strawberries and dice.
Lay your graham crackers onto a large serving plate and spread with cream cheese frosting. Sprinkle on diced strawberries and sugar.