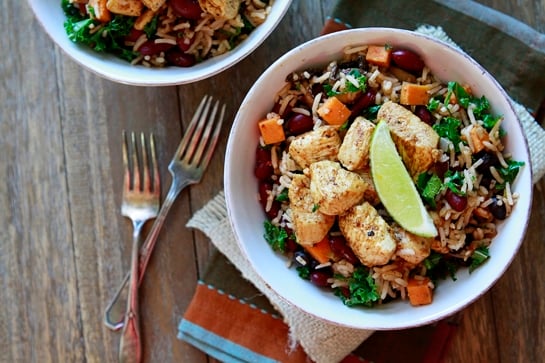 Ingredients:
For the Rice:
1 1/4 cup uncooked basmati rice
2 cups water
1/2 cup salsa
1/2 of a purple onion, diced
8 ounces peeled and diced sweet potato
1/2 teaspoon cumin
3/4 teaspoon chili powder
3.5 ounces chopped kale
1 can Bush's Kidney Beans, drained
1 can Bush's Black Beans, drained
salt and pepper, to taste
For the Chicken:
1 lb. boneless, skinless chicken breasts, cubed
salt and pepper, to taste
1/2 teaspoon cumin
1/2 teaspoon chili powder
[Optional - or use leftover meat from a previous night's dinner or rotisserie chicken]
Topping Ideas:
Lime Wedges
Avocado Slices
Salsa
Shredded Pepper Jack Cheese
Directions:
In a saucepan, add the water, salsa, and rice. Bring the mixture to a boil, cover with a lid, and turn the heat all the way to low. Allow to cook for 15 minutes.
Meanwhile, in a large cast iron skillet or stainless steel pan, heat 2 teaspoons of olive oil. Add the diced onion and saute for 5-7 minutes, or until tender.
Then add the sweet potato, cumin, and chili powder and saute until the sweet potatoes are tender. Add the chopped kale and cook just until wilted. Stir in the beans. Turn heat to low and set aside while you prepare the chicken.
Heat 2 teaspoons of olive oil in a cast iron skillet or stainless steel pan. Add the chicken and seasonings and cook until the chicken is done. Set aside.
In a large bowl (or your skillet if it is large enough), combine the cooked rice with the vegetables.
To serve, scoop the rice and vegetable mixture into bowls, top with cubed chicken. Although not necessary, serve with any toppings that you prefer.
more: http://www.goodlifeeats.com/2012/11/fall-mexican-rice-bowls.html