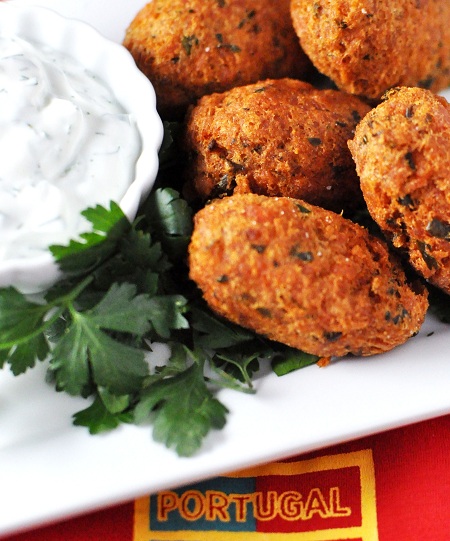 Ingredients
12 oz salmon, baked, skinned and flaked
1 pound russet potatoes, scrubbed, peeled, boiled and flaked
2 cloves garlic, minced
1 tsp chopped dill
1 tsp chopped cilantro
1 tablespoon chopped parsley
1 tbsp chopped chives
3 egg yolks, beaten
Vegetable oil, for frying
1/4 teaspoon salt
1/4 teaspoon ground black pepper
herb sauce, recipe follows
Directions:
Bake the Salmon, allow to cook and flake. Concurrently, boil the potatoes until easily pierced with a knife.
In a large bowl, combine the salmon, potato, garlic, herbs, egg yolks, and salt and pepper. Refrigerate for a minimum of 1 hour.
Using a heaping tablespoon of the salmon mixture into your hands and shape into a ovalish croquette. Repeat until you have used all the mixture.
Pour enough oil into the large heavy pot to just cover the croquettes (eyeball it) and allow to heat to 300-325 degrees. I then cooked 6 croquettes at a time, gently moving them around about every minute. Allow them to cook until they are a medium-dark brown.
Using a spider or slotted metal spoon, remove them carefully onto a paper towel lined plate and season with salt. Repeat until all croquettes are cooked.
more: http://www.savoringthethyme.com/2011/12/a-twist-on-portuguese-codfish-balls-salmon-ball-croquettes-with-herb-sauce/