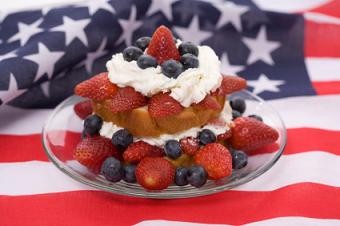 Ingredients
2 (8-ounce) packages cream cheese, softened at room temperature
1/2 cup granulated sugar
1 tablespoon all purpose flour
2 eggs
1 tablespoon grated lemon zest
Juice of half a lemon
1-1/2 teaspoons pure vanilla extract
1 prepared graham cracker pie crust
2 cups fresh strawberries, halved
1-1/2 cups fresh blueberries
1/3 cup strawberry preserves, warmed
Freshly whipped cream
Directions
Preheat oven to 325 degrees F.
In a standup mixer fitted with the paddle attachment, beat cream cheese, sugar and flour until fluffy. Beat in eggs one at a time. Add lemon zest, lemon juice and vanilla, beating to combine.
Transfer cream cheese filling to pie crust. Bake for 30 minutes or until filling is just set. Cool on a wire rack. Refrigerate until chilled.
Arrange strawberry halves, cut side down, around the edge of the pie. Arrange some of the blueberries around inside of edge of the strawberries. Repeat with strawberry halves. Place remaining blueberries in the center.
Brush with preserves and refrigerate until ready to serve. Serve with whipped cream.
http://chefmom.sheknows.com/articles/4395/red-white-and-blue-4th-of-july-desserts