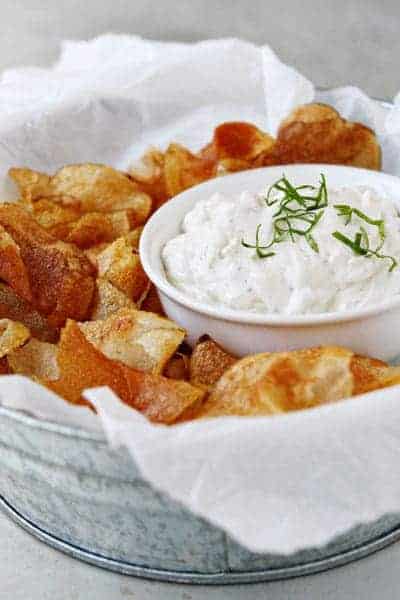 INGREDIENTS:
2 tablespoons canola oil
1 tablespoon butter
2 large Vidalia onions, diced
2 cups reduced fat sour cream
1 cup reduced fat mayonnaise
1 teaspoon Nature's Seasoning (see note below)
¼ teaspoon garlic powder
1 teaspoon Worcestershire
1 teaspoon freshly ground black pepper
salt to taste
DIRECTIONS:
In a large saute pan over medium to medium-high heat (adjust to your cook top), add oil and butter. When butter is melted, add onions and saute stirring often until golden brown and caramelized, about 30-35 minutes. This may take less time depending on the size of your onions and your cook top. Set aside to cool to room temperature.
Meanwhile, in a medium bowl, combine sour cream, mayonnaise, Nature's Seasoning, Worcestershire, salt and pepper. Fold in onion mixture. Chill at least 1 hour or overnight, prior to serving.
http://www.mybakingaddiction.com/french-onion-chip-dip/