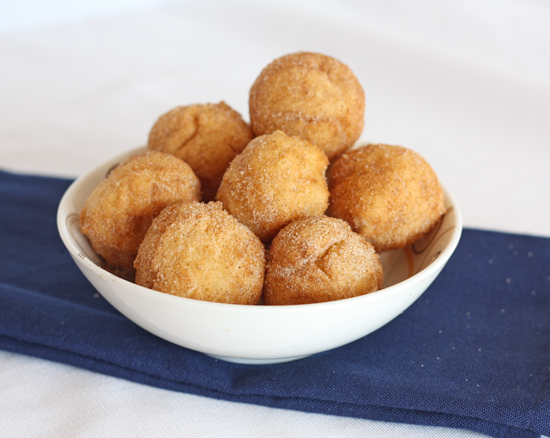 Ingredients:
8 oz tofutti cream cheese
2 tablespoons dark brown sugar
1 cup + 2 tablespoons cornstarch
generous pinch salt
2 egg yolks
1/4 cup sugar
2 teaspoons cinnamon
Oil for frying, enough to fill a pot 3 inches deep.
Method:
Heat the oil to 300.
Combine the first five ingredients in a mixing bowl. Roll the batter into one inch balls. The batter is very soft but it should be possible to roll it into balls using damp hands. If it is still too sticky add an additional tablespoon of cornstarch. Combine the cinnamon and sugar in a small bowl.
Drop the balls into the oil. Make sure not to put too many in at a time or the oil will cool off too much. Fry them for 2-3 minutes, or until they all have been floating on the surface for at least a minute. Increase the temperature to 350 and fry a minute or two more, until they are golden brown. Drain the bunuelos and transfer them to a paper towel lined plate. Let them cool for a minute and then, while they are still hot, toss them in the cinnamon sugar.
more: http://www.couldntbeparve.com/2011/12/bunuelos/