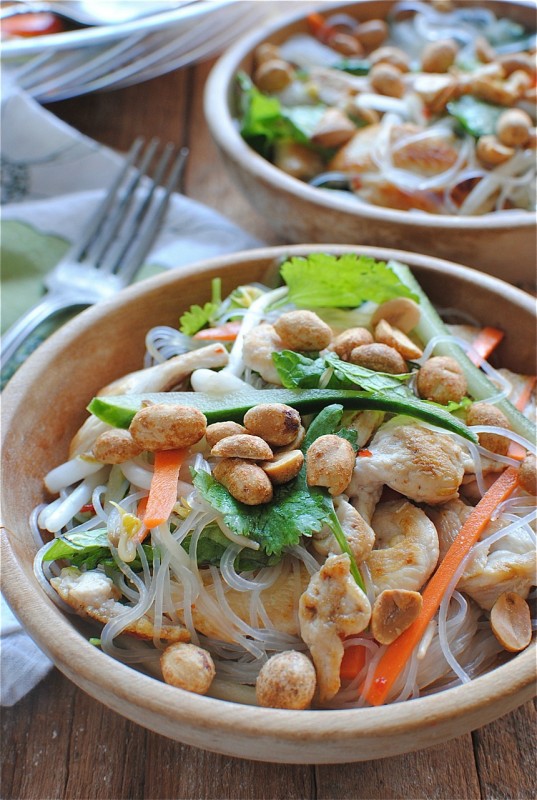 Ingredients:
2 bundles vermicelli noodles (about 2 cups cooked)
2 Tbs. extra virgin olive oil
2 chicken breasts, thinly sliced
1 large carrot, thinly sliced
1/2 cucumber, thinly sliced
1 cup fresh bean sprouts
1 cup fresh mint
1/4 cup fresh cilantro
2 Tbs. fish sauce
juice from a small lime
1 tsp chili garlic paste
2 Tbs. brown sugar
2/3 cup water
1/2 cup peanuts
Method:
Boil your noodles, drain and run under cool water. Wiggle your fingers in them.
Heat the oil in a large skillet over medium high. In batches, lightly season with salt and sear the sliced chicken until cooked through and browned on both sides, about 3 minutes per batch. Set aside and cover to keep warm.
In a small saucepan, combine the water, fish sauce, lime juice, chili paste and brown sugar. Heat to dissolve the sugar. Remove from heat.
Place the noodles in the center of a large platter. Top with chicken, carrots, cucumber, bean sprouts and mint. Pour the dressing over the dish and toss to combine.
Serve the salad garnished with peanuts and cilantro leaves!
http://bevcooks.com/2012/09/vietnamese-noodle-salad-with-chicken/