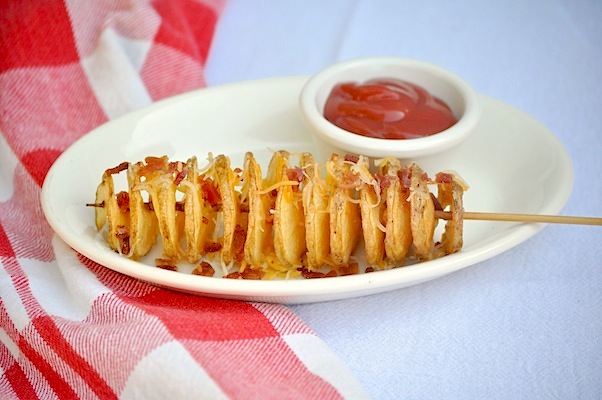 Ingredients:
Optional toppings:
Grated cheese
Bacon bits
Sour cream
Ketchup
Directions:
Cut a small slice off one end of a potato.
Insert a bamboo skewer through the middle of the cut end, all the way to the other end of the potato.
Using a small, sharp knife, start cutting the potato in a spiral direction, from left to right, cutting down to the skewer in one continuous cut.
When done cutting, carefully separate the spiral, starting at the bottom, pulling down to space evenly along the skewer.
Fill a shallow pan with enough oil to come about halfway up the potato when laid down in the oil. Heat the oil to 350 degrees F.
Using tongs, place the skewer into the oil. Let fry for a few minutes, then turn over. Fry until golden brown and crispy on all sides. Time will vary depending on size of potato and oil temperature.
When finished frying, drain on a paper towel, salt immediately and top with desired toppings.
Note: Smaller potatoes are easier to cut and fry more quickly. Use as small a pan as possible to conserve oil.
http://www.sheknows.com/food-and-recipes/articles/968881/spiral-fried-potato-recipe