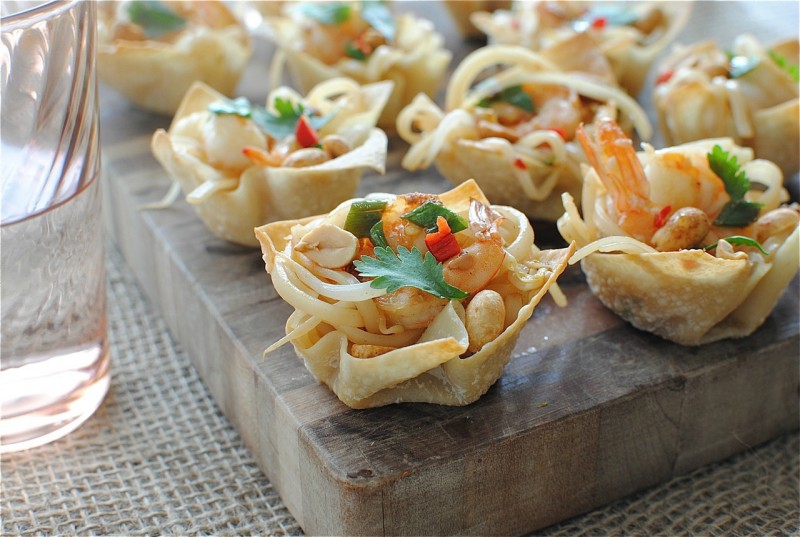 Ingredients:
24 wonton wrappers
7 oz pad thai noodles
2 Tbs. brown sugar
2 Tbs. soy sauce
1 Tbs. fish sauce
2 Tbs. fresh lime juice
1 Tbs. sriracha or chili garlic sauce
3 Tbs. canola oil
2 scallions, finely sliced
24 large frozen shrimp, thawed, peeled and deveined
5 cloves garlic, minced
1 cup fresh bean sprouts
1/4th cup unsalted peanuts, chopped
fresh cilantro for garnish
Method:
Preheat oven to 350.
Lightly oil each side of the wonton wrappers, and carefully press them into each muffin tin. Bake for 5 to 7 minutes, until crispy and slightly browned. Set aside.
Cook the noodles according to the package, then drain. Set aside.
In a small bowl, combine brown sugar, soy sauce, fish sauce, lime juice and chili paste.
Heat a large skillet over medium-high. Add the oil to the pan. Add the scallions, shrimp and minced garlic. Stir-fry roughly 2 minutes, until shrimp is done. Add the cooked noodles and stir to toss. Add the sauce and toss to combine.
Using tongs, place a small amount of the pad Thai inside each wonton cup. Nestle a single shrimp in the pad Thai nest, and garnish with peanuts.
http://bevcooks.com/2012/09/shrimp-pad-thai-cups/