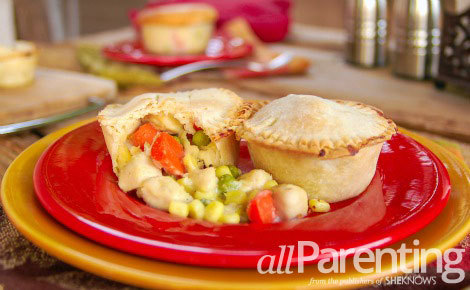 Ingredients:
1/2 pound boneless skinless chicken breast, diced in 1/2-inches
1/2 cup diced carrots
3/4 cup frozen sweet corn
1/4 cup frozen peas
1 cup water
1-1/2 teaspoons chicken bouillon granules
2 tablespoons unsalted butter
2 tablespoons all-purpose flour
1/2 teaspoon kosher salt
1/4 teaspoon black pepper
2 ounces Parmesan cheese, grated
Two (10-inch) unfold-and-bake frozen pie crust, refrigerated
Directions:
Preheat your oven to 425 degrees F. Prepare a muffin tin with non-stick cooking spray.
For the pot pie filling: In a medium saucepan over medium-high heat combine the chicken, vegetables, water and bouillon. Stir to combine, boil for about 15 minutes. Stir occasionally until the chicken is cooked through. Remove from the heat. Place a sieve over a bowl and strain out the chicken and vegetables, reserving the broth.
In a medium saucepan, over medium heat, combine the butter and the flour, whisk to combine. Cook about 2 minutes (to cook out the floury taste). Add the salt, pepper, milk and reserved chicken broth. Whisk occasionally until the sauce is thickened. Remove from the heat. Add the cheese. Stir to combine. Once the cheese is melted, add the reserved chicken and vegetables. Stir to combine. Set aside.
For assembly: On a floured cutting board, unroll one pie crust (leaving the other in the fridge until you are ready for it). Using a 4-inch round cookie cutter, cut out four pieces of dough, edge to edge. Using the 3-inch round cookie cutter, cut out another four pieces of dough, edge to edge. Repeat with the second pie crust. Press the large rounds of dough into the bottom of the prepared pan. Spoon the sauce into the pastry. Cover with the small round and use a fork to crimp the edges together. Use a knife to cut slits in the top of the pasty so steam can escape.
Bake for 22-25 minutes until golden brown. Allow to cool for 10-15 minutes, then remove from the pan and serve. Enjoy!
http://www.theslowroasteditalian.blogspot.gr/2012/09/mini-chicken-pot-pies.html