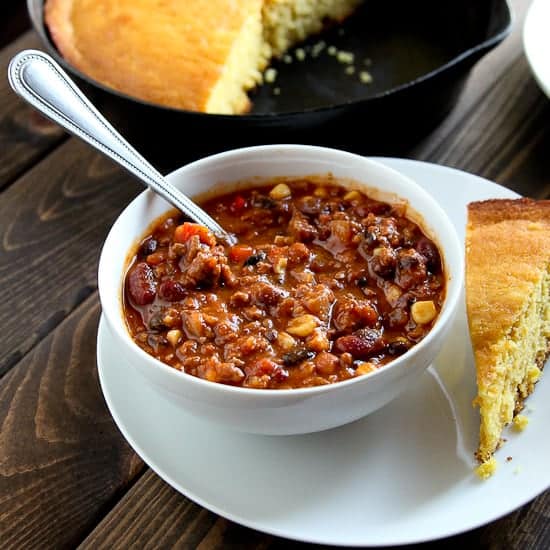 Ingredients:
1½ teaspoons olive oil
1 pound lean ground turkey
1 can kidney beans, drained and rinsed
1 can black beans, drained and rinsed
1 can pinto beans, drained and rinsed
1 cup frozen sweet corn
1 red bell pepper, chopped small
1 yellow onion, chopped small
1 28-ounce can crushed tomatoes
5 garlic cloves, minced
2 cups water
1½ teaspoons cumin
1 teaspoon unsweetened cocoa powder
½ teaspoon garlic powder
2 tablespoons chili powder
½ teaspoon paprika
¾ teaspoon dried oregano
½ teaspoon ground cayenne pepper
½- ¾ teaspoon salt
½ teaspoon ground black pepper
2 teaspoons reduced sodium soy sauce
Method:
Heat the oil in a large heavy bottom pot over medium heat.
Add the turkey and cook until browned, stirring to break it up as it cooks.
Add the onion, red bell pepper, and garlic, and cook for a few minutes, stirring, until tender.
Mix in canned tomatoes, beans, and spices. Add the water and stir to combine.
Bring the chili to a boil, then reduce heat to low and simmer covered for about 30 minutes until the chili thickens.
Serve with freshly baked corn bread.
http://www.snixykitchen.com/2012/09/19/healthy-turkey-and-veggie-chili/