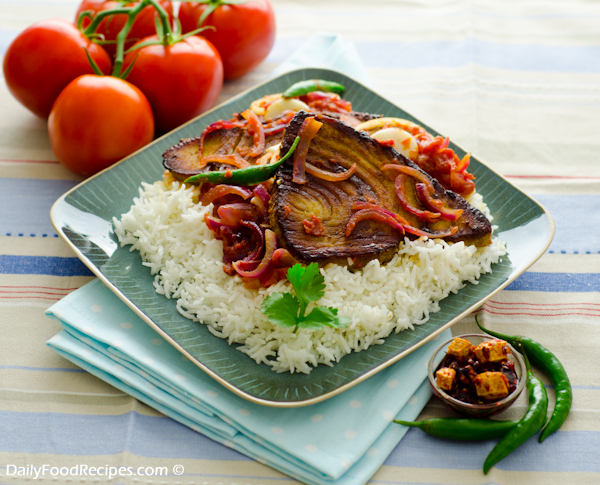 Ingredients:
2 Medium Tuna steak
1/2 Cup Tomato
1 Piece Ginger (choped)
3 Clove Garlic (choped)
1 Large Onion (choped)
3 Tablespoon Oil
1/2 Small Onion (to garnish)
2 Tablespoon Soya sauce (optional)
1/2 Teaspoon Salt (to salt )
1/2 Teaspoon Peper (to salt )
Directions:
Wash tuna very well with cold water.
Now add 1 tabale spoon of soya sause and salt mix well. Let it marinated, set a side for about 30 minutes.
Heat the oil in a large sauce pan lay marinated tuna steak to the sause pan
Fry both side untill tuna steak is light brown. Then set a side.
Then add onion, garlic and ginger in to the sauce pan and fry it for about 7 minutes.
Now add tomato and cook it for about 10 minutes.
Then add fried tuna steaks to the sauce pan.
Cook it for about 10 minutes
Meanwhile add 1 table spoon of soya sauce, peper and salt mix well together well.
Add chopped onion in to the dish as garnish.Step 11 Serve with rice.
http://www.dailyfoodrecipes.com/sri-lankan-deviled-tuna-with-rice/