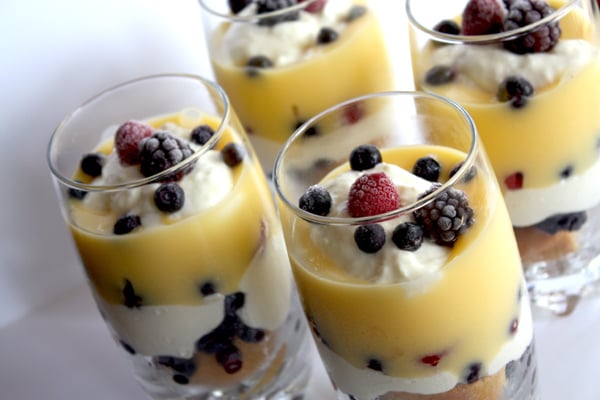 Ingredients
6 saviordi biscuits
1/3 cup berry/orange juice + 1/3 cup Grand Marnier
2 cups frozen mixed berries
2 cups store-bought light custard
For The Filling
250g light cream cheese
1 tsp gelatine
1 tbsp water
300ml light cream
2 tsp lemon juice
2/3 cup caster sugar
Method
Make filling by sprinkling gelatine over the water in a small heatproof jug. Stand jug in a pan of simmering water. Stir until gelatine dissolves, cool for 5 minutes. Beat sugar, cheese and lemon juice with an electric mixer until smooth. Beat in cream. Stir in gelatine mixture.
Cut each saviordi biscuit into three. Combine berry/orange juice and Grand Marnier in a bowl. Dip the biscuit pieces in the liquid. and divide equally among 6 tall drink glasses. Divide cheese mixture, among glasses and top with frozen berries. Top with some custard and more frozen berries.
Chill for 2 hours before serving.
http://www.cookrepublic.com/recipe-archive/cheesecake-berry-trifle/