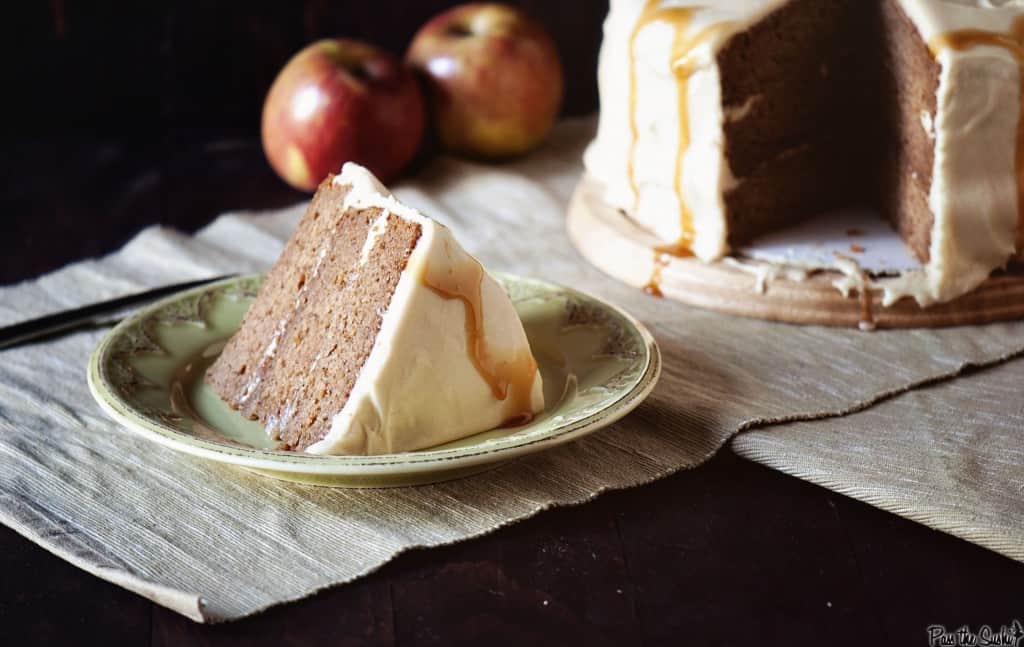 Ingredients:
For the cake:
4 cups flour
2 teas baking soda
1 teas baking powder
1 teas salt
2 teas cinnamon
1 teas allspice
1 teas cloves
1 1/2 cups unsalted butter, cut into 1″ cubes , at room temperature
2 1/2 cups sugar
2 large eggs
4 cups applesauce
For the caramel buttercream:
1 1/2 cups sugar
1/3 cup flour
1 1/2 cups whole milk
1/3 cup heavy cream
1 1/2 cups unsalted butter, soft but still cold, cut into 1″ cubes
1 teas vanilla extract
1/3 cup caramel sauce, at room temperature
Preparation:
Preheat oven to 325 degrees F. Grease 3 cake pans, line with parchment paper and grease again; Set aside.
Combine the flour, baking soda, powder, salt, cinnamon, allspice, and cloves in a medium bowl. Set aside.
In the bowl of your stand mixer fitted with the paddle attachment, cream the butter until light and fluffy, about 3 minutes. Scrape down the sides and add the sugar. Beat for about 3 minutes more and scrape down the sides again. Add the eggs, and mix until incorporated. Scrape down sides one more time.
Mix in the flour and applesauce in 3 additions starting and ending with the flour. Make sure to scrape the bottom of the bowl so that all of the ingredients are well combined. Divide batter evenly among the prepared cake pans and bake for 40-45 minutes, rotating pans halfway through bake time, until a toothpick inserted comes out clean.
Transfer pans to wire rack to cool for 20 minuets. Turn cakes out onto racks, remove parchment, and cool completely before icing.
Make the buttercream frosting: In a medium, heavy-bottomed saucepan, whisk the sugar and flour together. add the milk and cream and cook over medium heat until the mixture comes to a boil and has thickened, about 10-15 minutes, whisking occasionally.
Transfer the mixture to the bowl of a standing mixer fitted with the paddle attachment. Cover and beat on high speed until cool. Reduce the speed to low and add the butter and vanilla; mix until thoroughly incorporated. Increase the speed to medium-high and beat until the frosting is light and fluffy.
Add 1/3 cup caramel and continue mixing until combined. If the frosting is too soft, place in the fridge for 15 minutes to chill slightly, then beat again until it is the proper consistency.
Assemble the cake: Place one cake layer on a serving tray and trim to create a flat surface. Spread 1 1/4 cups frosting evenly across the top. Add the next layer, trim and frost it, and add the third layer. Crumb coat your cake and place in refrigerator for 15 minutes to set. Frost the sides and top with the remaining frosting. Drizzle the remaining caramel on top and set in the fridge for 15 minutes to set before serving.
This cake can be stored covered in the fridge for up to three days.
http://passthesushi.com/caramel-apple-cake-2/