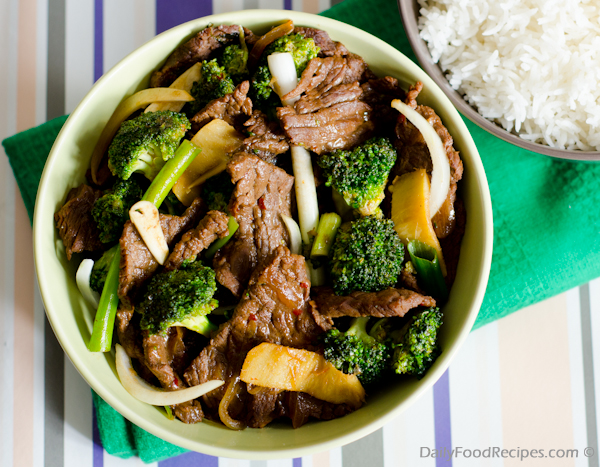 Ingredients
1 Pounds Sirloin or flank beef steak (cut in to thinly slices)
1 Pounds Broccoli (cut in to bite size)
1 Tablespoon Cooking oil
2 Clove Garlic (minced )
For beef marinade
1 1/2 Teaspoon Soy sauce (dark soy sauce)
1 Teaspoon Cornstarch
1/2 Teaspoon Cooking oil
1 Teaspoon Ground black pepper
To make stir fry sauce
3 Tablespoon Oyster sauce
2 Teaspoon Chinese rice wine (or white wine)
2 Teaspoon Chinese rice vinegar (or white wine vinegar)
1/2 Teaspoon Soy sauce (light soy sauce)
Directions:
In a bowl stir the ingredients for the Beef Marinade. Add the beef and mix well all together, set aside for about 15 minutes
In a separate bowl, combine the ingredients for the sauce and stir well. Set aside.
In a sauce pan add 2 inch of hot water. Then add broccoli and cover. Steam for about 5 minutes untill broccoli bright green and tender. Drain thoroughly.
Heat the wok or sauce pan over high heat, pour in cooking oil when the pan is really hot.
Add garlic and fry for 15 seconds, until fragrant. Add the steak and fry both side well about 5 minutes.
Now Pour in the Stir fry Sauce and stir to mix well. Simmer until sauce is thick for about 5 minutes.
Return the cooked broccoli in to the pan and stir to mixed well.
http://www.dailyfoodrecipes.com/beef-with-broccoli-stir-fry/