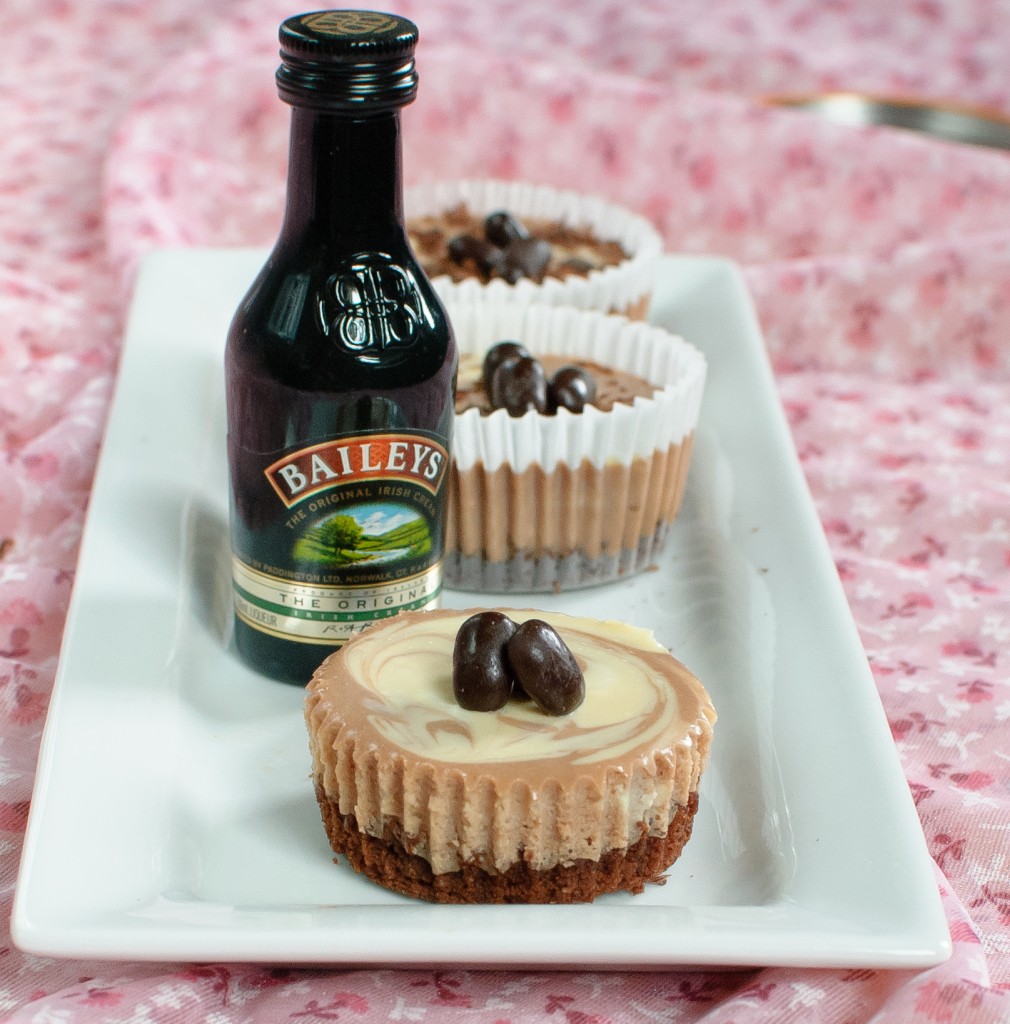 Ingredients
Crust:
1 1/2 cups chocolate cookie crumbs (I used chocolate animal crackers; Oreos or chocolate graham crackers work well, too)
4 Tbsp butter, melted
Cheesecake:
1 1/2 lbs cream cheese (three 8 ounce packages), room temperature
1 cup + 2 Tbsp granulated sugar
4 Tbsp all-purpose flour
3 large eggs, at room temperature
1/2 cup sour cream
1/3 cup Bailey's Irish Cream or other Irish Cream liqueur
1/4 cup unsweetened cocoa powder
Instructions
Preheat oven to 350 F. Line 18 cupcake wells with paper liners.
In a medium bowl, mix the melted butter with the cookie crumbs. Divide crumbs between cupcake tins. Use the bottom of a glass to press down firmly (each liner should have 1/4-1/2 inch crust).
Bake for ten minutes. Remove from oven and set aside. Reduce oven temperature to 325 F.
In a large bowl or the bowl of a stand mixer, combine cream cheese, sugar and flour. Beat on medium speed until smooth, about two minutes.
Beat in eggs one at a time until each is incorporated.
On low speed, beat in the sour cream and Bailey's until incorporated.
Remove about one cup of the batter and set aside.
Sift cocoa powder into the large bowl and beat on low speed until incorporated.
Fill liners about 2/3 full of the chocolate batter. Dollop a bit of the white batter onto each cupcake and use a toothpick to create a marble effect.
Bake for 18-22 minutes, until tops are set. Cool completely in pans, then refrigerate. Serve chilled, garnished with espresso beans or chocolate shavings.
http://www.baked-in.com/2012/09/18/baileys-cheesecake-cupcakes/