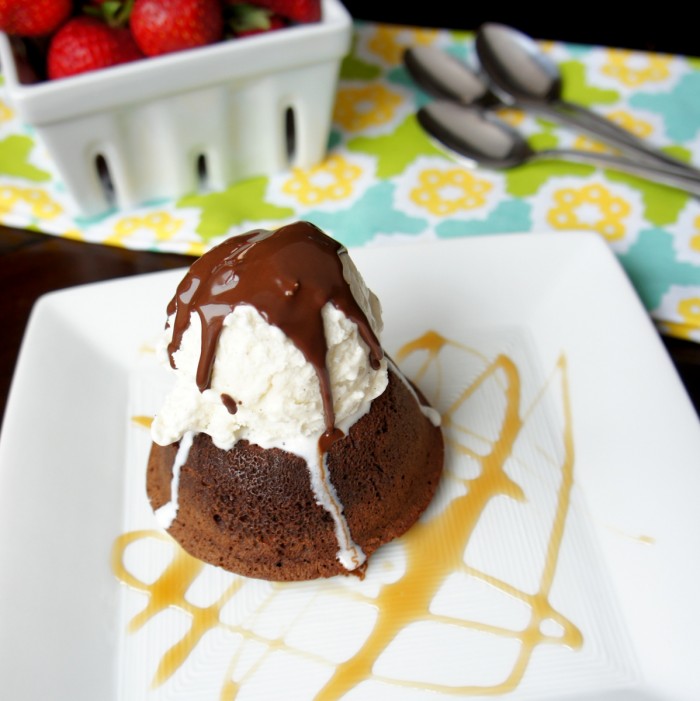 Ingredients
4oz Semi-Sweet Chocolate
1/2 cup butter (1 stick)
1 cup powdered sugar
3 whole eggs
1 egg- YOLK ONLY
6 tbsp flour
Caramel sauce optional*
Vanilla Ice Cream
2 Ingredient Magic Shell
Instructions
Preheat oven to 400 degrees F.
In a microwave safe bowl combine chocolate and butter. Microwave for 1 minute and 20 seconds. Whisk until the chocolate has melted and is smooth.
Add the powdered sugar and whisk till combined.
Add the 3 WHOLE eggs and 1 egg YOLK, whisk till combined.
Add 6 tbsp of flour and whisk until combined again.
Liberally spray 4 small (1 cup) custard cups with cooking spray, and evenly fill with batter.
Bake on a cookie sheet in the oven for 13-15 minutes until the outer edges are set and the center is soft set.
Remove from oven and let cool for 2-3 minutes before inverting onto a plate.
*If you are using the caramel sauce for under the cake, drizzle a little on the plate before inverting the cake.
Top each cake with a scoop of vanilla ice cream and then drizzle on the Magic Shell.
Enjoy!
http://iwashyoudry.com/2012/08/21/chilis-copy-cat-chocolate-molten-lava-cake-recipe/