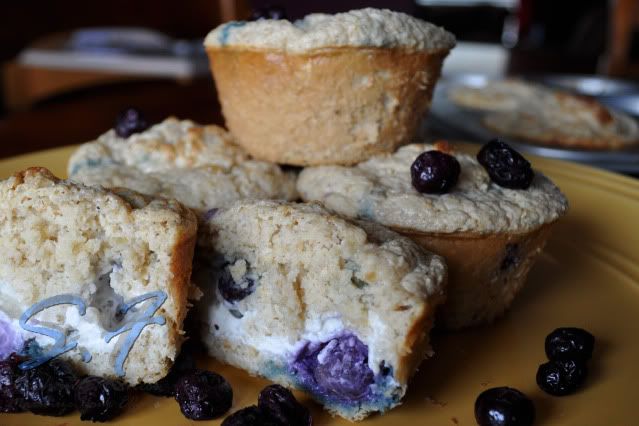 Main Ingredients
2 cups Old-Fashioned Oats
1 cup Fat Free Cottage Cheese
1/4 cup All-Natural Applesauce {no sugar added}
1 TBS Lemon Peel, grated
1/4 cup Vanilla Torani Sugar-Free Syrup
1 cup Egg Whites
1 tsp Vanilla Extract
1 tsp Lemon Extract
1 TBS Stevia {6 packets}
1 tsp Baking Powder
1/2 tsp Baking Soda
1/8 tsp Sea Salt
Separate Ingredients
1 cup Blueberries, unsweetened & frozen
4 oz Fat Free Cream Cheese
1/2 TBS Stevia {3 packets}
Directions
Preheat oven to 350 degrees. Lightly spray 12 cup muffin tin with olive oil.
In a blender, mix together all of your Main Ingredients. Blend ingredients in blender until smooth and creamy. Fill up all 12 muffin cups 3/4 full with muffin mixture.
In a separate bowl, mix together cream cheese and 1/2 TBS Stevia. Sprinkle frozen blueberries on top of muffins. Then using a butter knife carefully scoop cream cheese mixture and drop onto muffins.
Place muffins in over at 350 degrees and bake for 18 to 20 minutes. They should have a nice caramel color on their tops when they are done.
Remove from oven and let them cool completely before removing from muffin tin. Enjoy!
http://www.stephaniedotfitness.com/2012/02/lemon-blueberry-cheesecake-protein.html