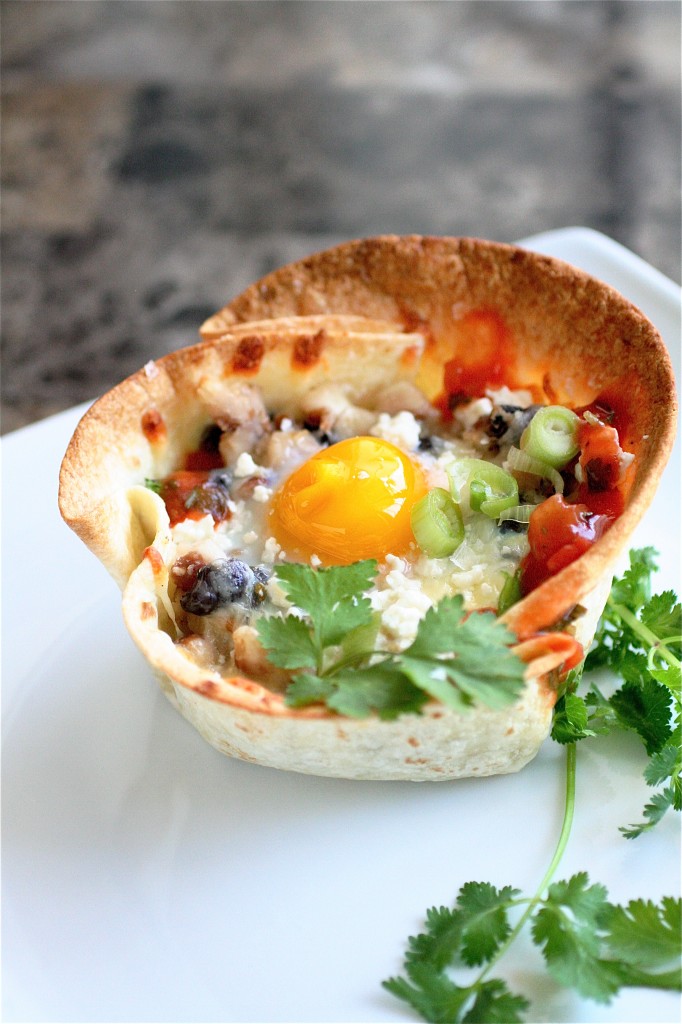 Ingredients
2-3 tablespoons olive oil, divided
Four 6″ flour tortillas
Sea salt
One 15-ounce can of black beans, drained and rinsed (or use your own)
1 and 1/2 cups pinto beans (or a 15-ounce can), drained and rinsed
1/2 teaspoon cumin
1-2 tablespoons fresh cilantro, chopped (or to taste)
4 large eggs
3/4-1 cup Monterey Jack cheese, shredded
For garnish: fresh salsa, Queso Fresco, green onions, etc.
Instructions
Preheat the oven to 350 degrees.
Lightly brush the inner surfaces of four ramekins with olive oil.
Gently press each tortilla into each ramekin, folding over the sides slightly if necessary (it may help to warm the tortillas in the microwave first).
With a silicone brush, lightly brush the surfaces of the tortilla with the olive oil and sprinkle with a pinch of sea salt.
In a large bowl, combine the beans, cumin, 1/2 tablespoon olive oil, and the cilantro, making sure to slightly mash the beans together.
Spoon a generous amount (about 2/3 cup) of the bean mixture into each tortilla cup.
Carefully crack an egg into the center of each tortilla cup.
Lightly sprinkle the egg surface with cheese.
Bake for 27-30 minutes, or until the whites of each egg are set. **Don't forget to cover the ramekins with a sheet of foil if the tortillas start to brown too much. Serve immediately.
http://www.thecurvycarrot.com/2012/05/31/huevos-rancheros-in-tortilla-cups/