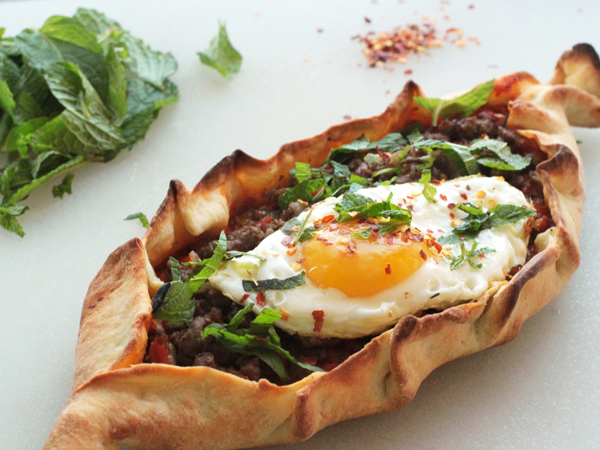 For the dough:
2 cup all-purpose flour (to start, will probably need a bit more)

1 tsp sugar

1 tsp salt

1 ½ tsp instant yeast (if using active dry yeast, increase to 2 tsp)

1 cup warm water
For the sauce:
2 red bell peppers

olive oil

salt

freshly ground black pepper
For the topping:
1 lb ground lamb

1 onion, chopped finely

3 cloves garlic, minced

1 tsp pimentón (smoked paprika) or paprika

½ tsp ground cumin

small pinch of ground cinnamon

salt

freshly ground pepper
For garnish:
3 eggs (optional)

lemon zest

fresh mint leaves, chopped

red pepper flakes
Make the dough:
(If using active dry yeast, combine the warm water with the sugar in a small bowl. Sprinkle in the yeast. Wait about 10-15 min until foamy. Proceed with recipe but remember that you already added the sugar to your yeast mixture.) Add all the ingredients to the bowl of a stand mixer. Using the paddle attachment, mix on low speed until well-combined.
On a well-floured board, turn out the dough which will look clumpy and messy. Flour the board and your hands liberally and begin gathering the dough into a ball. Knead until the dough is smooth and elastic, about 10 min or so. Sprinkle with flour as needed to keep from sticking. If the dough starts looking too dry, drizzle in a tiny bit more olive oil.
Oil a large bowl and place the dough ball inside, then flip the dough ball upside down to ensure that the whole surface is covered by a film of oil. Cover with plastic wrap or a damp kitchen towel and let rise in a warm, draft-free place until doubled in size, about 2 hours.
Make the sauce: Using a broiler or gas stove, thoroughly char the skins of the red bell peppers until blackened. Place the peppers in a large bowl and cover to allow them to steam for 15-20 min. Carefully remove the blackened skin as well as the stem and seeds. Roughly chop the roasted peppers and place in the bowl of a food processor. Drizzle in a healthy glug of olive oil and puree. Season with salt and pepper.
Make the topping: Heat 2 Tbsp of olive oil in a large pan over medium-high heat. Add in onions and cook until softened, about 5 min. Add in garlic, pimentón, cumin, cinnamon and saute for a few more minutes until fragrant. Add in lamb. Saute until lamb is cooked through, about 10-15 more min. Taste and adjust seasonings with salt and pepper. Drain in a colander and let cool.
Assemble the pides: Preheat oven to 500F. If using a pizza stone, that should be in the oven during preheating. Sprinkle a peel with a pinch of cornmeal. If you don't have a peel, use an inverted baking sheet.
Divide the dough into three pieces. Keep the other pieces wrapped in plastic while you work with one piece. Use a floured rolling pin to gently roll out the dough into a long, oval shape (see photos). Once you have the dough rolled out to your preferred thickness, transfer to your prepared peel or inverted baking sheet. Spread a few spoonfuls of sauce on the dough, leaving a thick border, then add the topping.
http://www.riceandwheat.com/2010/10/pide-turkish-pizza/