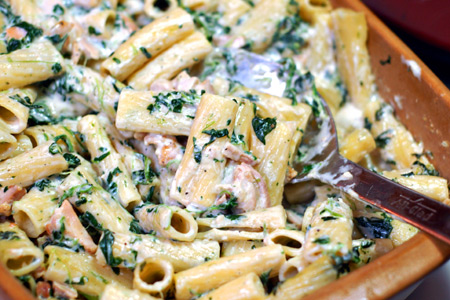 Ingredients
8 Chicken thighs, boneless and skinless
1 1/2 lb Dry rigatoni
16 oz Frozen spinach, thawed
16 oz Heavy whipping cream
4 cups Milk, 2%
8 oz Sour cream
1 cup Italian three-cheese blend (Parmesan, Asiago & Romano)
2 Tbsp Butter, unsalted
2 Tbsp Canola or vegetable oil
2 Tbsp All-purpose flour
1 1/2 Tbsp Garlic, minced
2 tsp Garlic salt
2 tsp Kosher salt
1 tsp Black pepper, ground fresh
1/2 tsp White pepper
Dash Cayenne
Dash Nutmeg
Method
Trim any excess fat from the chicken thighs.
Season both sides of the chicken evenly with the garlic salt and the black pepper.
Set aside and let sit 30 minutes at room temperature.
Start your grill and prepare for direct cooking at medium-high heat (400-450º).
Cook the pasta per the package directions until it is just shy of al dente, then drain it well.
http://www.patiodaddiobbq.com