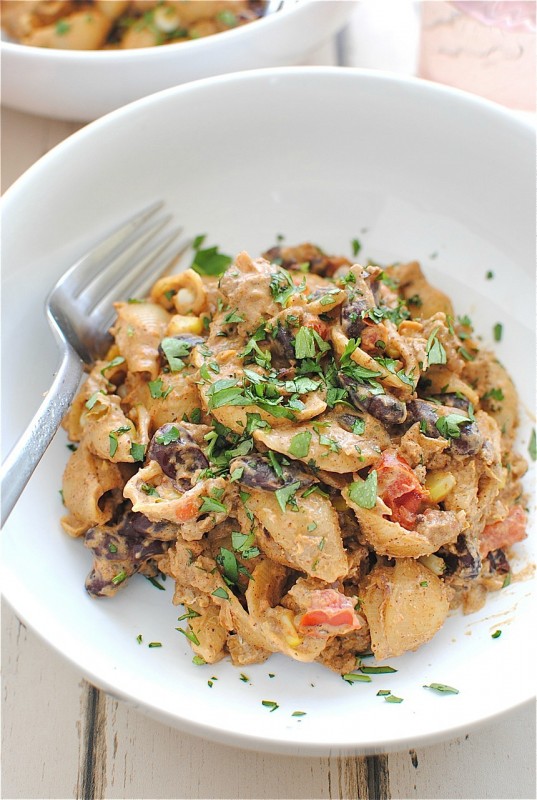 Ingredients:
1 pound organic ground chicken

1/2 medium red onion, finely chopped

3 cloves garlic, minced

3 Tbs. favorite taco seasoning

1 (14.5 oz) can drained and rinsed kidney beans (or black)

1 (4 oz) can diced green chiles

1 ear fresh corn

1 roma tomato, diced

2 cups pasta shells

4 oz (half a block) cream cheese

2 Tbs. greek yogurt

1/2 cup freshly chopped cilantro

coarse salt and pepper
Method:
Heat a medium skillet over medium-high. Add the chicken and cook until browned all over, about 6 minutes. Add the onion, garlic and taco seasoning. Sauté 4 minutes. Season with salt and pepper.

Add the beans, corn and diced green chiles. Toss to combine and continue to cook another 5 minutes. Taste it. Need a little more salt? Maybe?

Add the diced tomato and toss to combine.

In the meantime, cook your pasta shells until al dente. Reserve about 1/3 cup pasta water and drain the rest. Add the shells, cream cheese and yogurt to the skillet. Toss to combine.

Add some of the pasta water to thin out the sauce if it's a little too thick for your taste. Taste one more time and season accordingly.

Serve with lots of fresh cilantro! Your soul is going to flip.
http://bevcooks.com