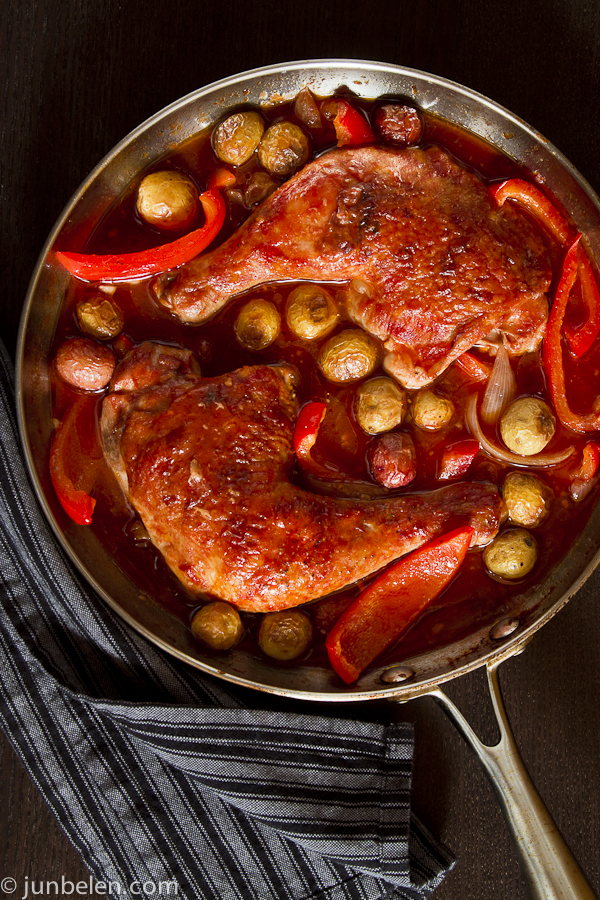 Ingredients:
2 pounds chicken

salt and freshly ground pepper

1 tablespoon vegetable oil

1 clove garlic, chopped

1 small onion, sliced into eight pieces

1 8-ounce can tomato sauce

1 cup chicken stock

1 tablespoon fish sauce

2 bay leaves

15 marble or fingerling potatoes, roasted

1 small red bell pepper, sliced
Method:
Preheat the oven to 350 degrees F.

Season the chicken with salt and pepper. Heat the oil in a Dutch oven or stainless pan over medium high heat. Brown chicken on all sides. Transfer the chicken to a plate as they finish browning.

Saute garlic and onions until fragrant and softened, about 5 minutes. Place the chicken back in the pot or pan. Add chicken stock, tomato sauce, fish sauce, and bay leaves. Bring to a boil then transfer the pot or pan to the oven. Braise the chicken until they are cooked through, about 45 minutes to an hour. Baste the chicken with the sauce every now and then while it is braising. In the last ten minutes, add the roasted potatoes and red bell pepper. Add salt and freshly ground pepper to taste.
http://blog.junbelen.com