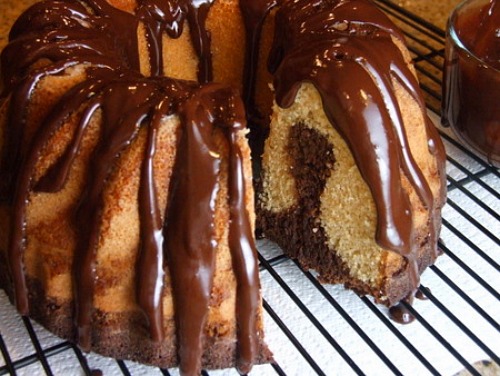 CAKE:
3 Tablespoons granulated white sugar
3 cups all-purpose flour
1 teaspoon baking powder
1/4 teaspoon salt
3/4 cup butter, at room temperature
2 cups granulated white sugar
2 teaspoons vanilla extract
3 large eggs
1 cup 2% reduced-fat milk
3/4 cup chocolate syrup
1/4 teaspoon baking soda
GANACHE:
8 ounces chopped chocolate (chips are fine)
3/4 cup heavy whipping cream
2 Tablespoons granulated white sugar
2 Tablespoons butter
Directions:
Preheat oven to 350°F. Coat bundt pan with cooking spray and dust with 3 Tablespoons granulated sugar.
Whisk together flour, baking powder and salt in a medium bowl; set aside.
Beat butter in a large bowl with a mixer at medium speed until light and fluffy. Gradually add sugar and vanilla, beating until blended. Add eggs, one at a time, beating well after each addition. Add flour mixture to sugar mixture alternately with milk, beating at a low speed, beginning and ending with the flour mixture. Beat just until blended.
Spoon 2/3 of the batter (about 4 cups) into the prepared pan. Add syrup and baking soda to the remaining batter in the bowl, stirring just until blended; spoon on top of batter in pan.
Bake for 1 hour to 1 hour & 15 minutes, until cake pulls away from sides of pan and toothpick inserted in the center comes out clean.
Cool in pan for about 15 minutes; gently remove cake from pan and cool completely on wire rack.
When ready to serve, prepare ganache: Place chocolate in stainless steel or glass bowl and set aside. Bring cream & sugar just to a boil in a small saucepan (or microwave) then pour over chocolate. Whisk together until smooth, and then stir in butter until melted.
Drizzle ganache over the cake, or you can choose to drizzle ganache over individual servings instead.
recipegirl.com