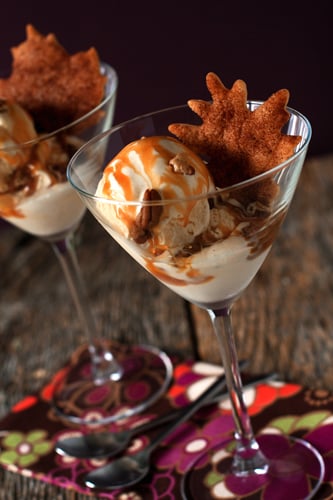 INGREDIENTS:
1 cup plus 2 tablespoons sugar, divided
3/4 stick (6 tablespoons) butter, plus 1 tablespoon butter, melted, divided
2 tablespoons molasses
1/2 cup heavy cream
1 1/2 teaspoons ground cinnamon
1 9-inch refrigerated pie crust
1 1/2 quarts premium vanilla ice cream
1 bag (5 oz) glazed pecans, coarsely chopped
DIRECTIONS:
To make caramel sauce, bring 1 cup sugar and 1/4 cup water to a boil over medium heat in a medium heavy-bottomed saucepan, whisking constantly. When mixture starts to boil, turn heat to medium-low and stop whisking. Continue to boil until mixture turns golden brown, 10 to 15 minutes. Remove pan from heat and whisk in 6 tablespoons butter and molasses. When butter has melted, whisk in cream. Cool to room temperature.
Adjust oven rack to lower-middle position and heat oven to 375 degrees. Line a baking sheet with a Silpat baking mat or parchment paper.
Mix remaining 2 tablespoons sugar with cinnamon in a small bowl. unroll pie dough and place on baking sheet. Brush with remaining 1 tablespoon melted butter and sprinkle with cinnamon sugar. Cut dough into 12 triangles with a pizza wheel or sharp knife and pull triangles out a little to separate. Bake until golden brown, 12 to 14 minutes. Just before serving, scoop 1/2 cup ice cream into each goblet. Top with 2 tablespoons sauce, a scant 2 tablespoons pecans, and a wedge of pastry. Serve immediately.
mybakingaddiction.com