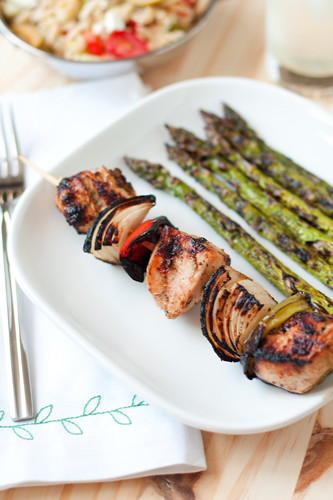 Ingredients
1/2 cup olive oil
1/4 cup freshly squeezed lemon juice
2 cloves garlic, minced
2 tablespoons Dijon mustard
2 tablespoons dried oregano
1 tablespoon chopped fresh thyme leave or 1 teaspoon dried thyme
2 tablespoons chopped fresh parsley
1 teaspoon freshly ground black pepper
1 tablespoon chopped fresh rosemary or 1 teaspoon dried rosemary
1 red bell pepper, cut into 2 inch pieces
1 green bell pepper, cut into 2 inch pieces
1 large sweet onion, peeled and cut into wedges
2 pounds skinless, boneless chicken breast halves – cut into cubes
Directions
In a small bowl, mix together all the marinade ingredients.
In a large resealable plastic bag, place the marinade, red and green bell peppers, onion wedges and chicken. Seal, and mix to coat. Refrigerate 4 to 24 hours.
When ready to cook, preheat grill for medium-high heat.
Discard marinade, and thread the meat and vegetables onto skewers, leaving a small space between each item.
Lightly oil the grill grate. Grill skewers for 10 minutes, turning as needed, or until meat is cooked through and vegetables are tender.
mybakingaddiction.com