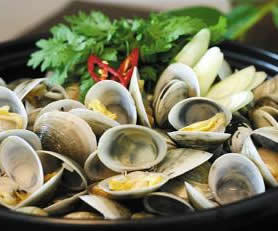 RECIPE INGREDIENTS
12 little necked clams
1 stalk green onion
1 red pepper or jalapeño
1 clove garlic
Salt
Black pepper
Water
COOKING DIRECTIONS
Thoroughly wash and clean clam shells and remove any visibile sediments.
In a large bowl or pot, add water and 2-3 teaspoons of salt. Place clams and let it soak for at least 3 hours.
Cut green onion into 1-inch long pieces.
Cut red pepper or jalapeño into match stick sizes approximately 1-inch long.
Mince garlic. Set all vegetables aside.
Discard salt water and rinse clams once more. Put clams into a pot and add 6 cups of water.
Bring pot to boil on high heat. When clam shells start to open, lower heat to medium.
Add green onion, red pepper, and minced garlic.
Season with salt and balck pepper, bring it to a boil once more. Serve hot.
trifood.com