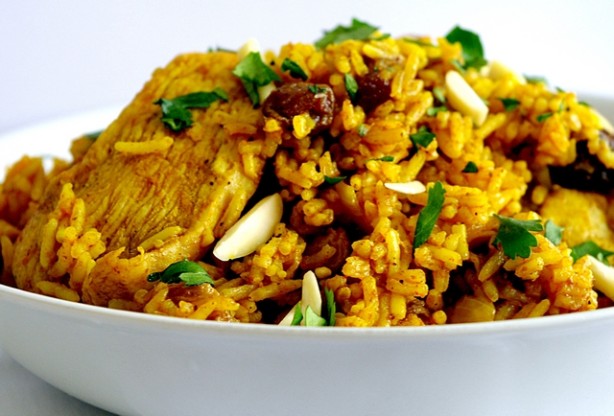 Ingredients
1/4 cup prepared curry powder
3/4 pound uncooked skinless chicken breast, cut into strips
1 medium onion, diced
1 red bell pepper, diced
1 tablespoon olive oil
3/4 cup chicken broth
1 pouch Uncle Ben's Ready Rice Basmati
1 cup plain non-fat yogurt
4 cilantro sprigs and leaves, chopped for garnish
Preparation
In plastic storage bag, combine curry powder, chicken, onion and bell pepper. Shake well to coat chicken and vegetables in curry powder.
Heat sauté pan over high heat; add oil. Add chicken mixture to pan and sauté until chicken is almost done, about 5 minutes.
Add chicken broth and rice to pan. Heat until most of the chicken broth has absorbed, about 3 minutes.
Stir in yogurt and chopped cilantro into heated rice and chicken mixture.
Stir until well combined.
Serve hot.
culinary.net