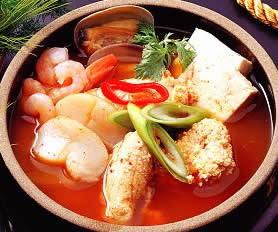 RECIPE INGREDIENTS
1 package tofu
6 oz seasoned roe (available at your local Korean market)
2 tbsp toasted sesame oil
4 green onions, cut into ½ inch pieces
5 cloves of garlic, minced
1 tsp of gochugaru, red chili pepper flakes
4 cups of water
14 oz pack of medium firm tofu, cut into cubes
COOKING DIRECTIONS
In a pot, fill enough water to cover the whole block of tofu and bring it to boil.
In a saucepan, over medium heat, add sesame oil, green onion, garlic, and Korean red chili pepper powder.
Cook until garlic is fragrant, but not brown.
Add water and bring it to a boil.
Add fish roe.
Cook for an additional 5 minutes, then add tofu.
Continue cooking until tofu is warmed through for approximately 3 minutes.
Serve with steamed rice.
trifood.com