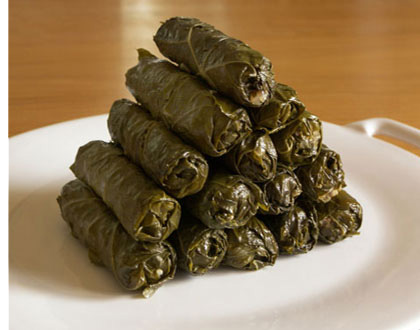 Ingredients:
30 vine leaves
1 coffee cup raw rice
1 medium onion
1 teacup olive oil
3 tablespoons anise, well chopped
1 clove garlic, peeled, minced
1 ½ coffee cup hot water
1 lemon
Salt - Pepper
Method
Soak the rice in water for 5 minutes. Strain well and mix it with the onion, garlic, anise, salt and pepper. Rinse the vine leaves in cold water; if the vine leaves are fresh, blanch them for 3 minutes. Drain and refresh in cold water. Put a teaspoon of the stuffing near the bottom of each vine leaf. Fold the bottom and 2 sides to cover the filling and roll tightly toward the tip of the leaf, leaving room for the rice to expand by 2-3 times as it cooks. Arrange stuffed vine leaves in a casserole, close one next to the other and cover completely with a plate (so they do not open up during cooking). Add hot water and simmer for 20-30 minutes, adding some more hot water if necessary. Remove from heat, leave to cool and place on a platter. Garnish with lemon slices or lemon fillets and serve.
greek-islands.us