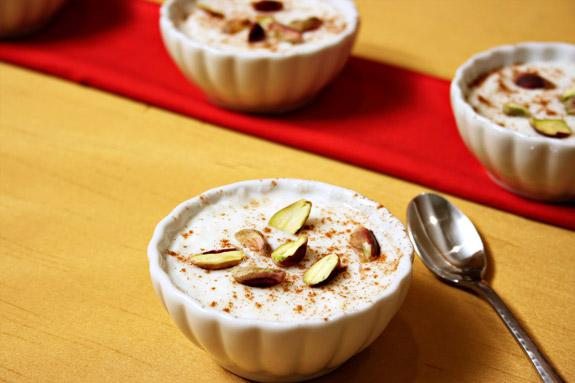 Ingredients
1 cup long-grain rice
1 cup sugar
10 cups whole milk
1 teaspoon vanilla extract
Cinnamon
Procedure
In a large saucepan, mix the rice, sugar, milk, and vanilla extract together.
Bring to a boil on medium to high heat, stirring occasionally.
Immediately reduce heat.
Continue boiling for 1½ to 2 hours, or until a pudding consistency is reached.
If not boiled long enough, the rice gains remain too hard.
Put in individual cups or shallow serving dishes, cover the top, and chill before serving. To serve, sprinkle with cinnamon.
If desired, orange zest, cinnamon, cloves, or rose water can be used instead of, or in addition to, vanilla.
Serves 12.
foodbycountry.com